It's occurred to me on several occasions that the screwdriver is the most versatile tool ever. It's used by professionals and novices alike for everything from simple home repairs to major construction.
As an electrician, I used them to open junction boxes, tighten fittings, and even as a pry bar from time to time. Even though I no longer work as an electrician, I still use them around the house on a regular basis. In fact, today I installed a wall mount for my TV using my trusty #2 Phillips.
It was instilled in me as a young apprentice to always purchase the best tools I can possibly afford. If you work with your hands or rely on your tools for your livelihood, it goes without saying that this should be true.
But you don't have to be a tradesman or automotive technician to respect quality. Top-shelf tools make assembling and maintaining your projects a breeze and can last you a lifetime. They can also save you money in the long run when you consider replacement costs or potential damage caused by inferior tools.
The ten options listed here represent the absolute best screwdriver sets on the market based on my personal experience as well as the experience of friends and acquaintances. The list is in no particular order.
To round things out, I also added a buying guide and question-and-answer section at the end if you're interested in the gritty details.
Klein Cushion-Grip Screwdriver Set
Klein Tools is an American company based in Illinois that manufactures hand tools. And, if you're an electrician, there is an excellent chance you've heard of them as they are considered the standard by which all other electrical tools are measured.
This was my second set of professional screwdrivers and the ones I used for years as an electrician myself. They're built exceptionally well and never let me down in any capacity.
Klein screwdriver sets are available in quantities from two to eight, with the eight-piece set offering the most value. It includes all the most common sizes along with two stubby screwdrivers that are great for work where long screwdrivers are untenable.
Each screwdriver is made from steel, heat treated for strength, and features a corrosion resistant chrome-plated finish. The tips are precision machined and black oxidize finished to increase friction making them less likely to slip or cam-out.
The tips are non-magnetic, which is disappointing considering their price, though not a complete letdown depending on your preference. Also, the shank goes about halfway through the handle. The shank is substantial, however, and I've never had an issue using the large flathead as a pry.
The handles are made from hard plastic with a rubberized grip. They're amazingly comfortable in hand and the increased grip gives you a lot of leverage and added safety when your hands are slick. It inspires confidence when you have to really torque on stuck screws.
Overall, this is an exceptional set of screwdrivers built for professionals and enthusiasts alike. If you take care of them, I have no doubt they will last you a lifetime.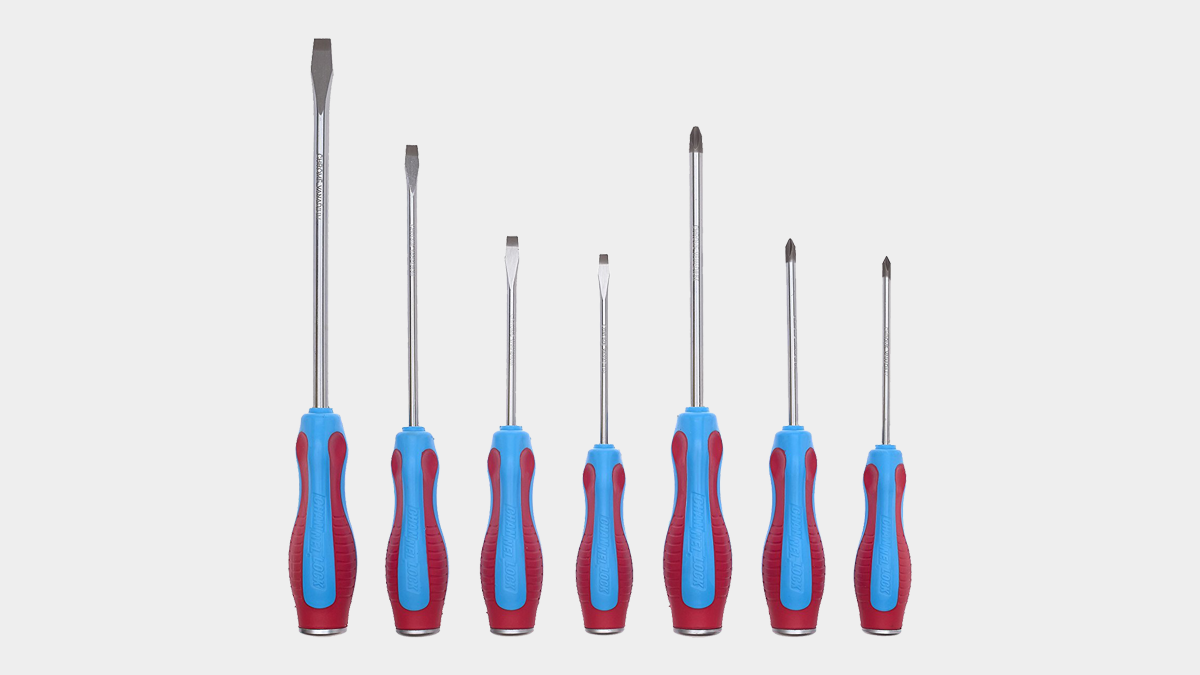 Channellock Code Blue Screwdriver Set
Channellock is famous for making slip joint pliers. They're so well known that the brand is genericized and now most slip joint pliers are simply called Channellocks, regardless of who makes them. That, in and of itself, says a lot about the tools they produce.
I got my first set of Channellock screwdrivers a few years ago and was immediately impressed by their quality. For the price, you get an exceptional tool with a lot of high-end features.
Channellock Code Blue screwdrivers are available in a 7-piece set. In the set, you get all the common sizes you will need for most common tasks. They're built from super strong chronology vanadium and the shank is chrome-plated to guard against corrosion.
The tips are precisely machined and magnetically charged so you won't drop screws every two seconds. And, the shank goes all the way through the handle giving you maximum leverage, stability, and strength.
The three-sided grips are a nice touch, too. The design prevents your screwdrivers from rolling away and they're rubberized to give you extra torque for those stubborn screws.
Considering all the features and build quality, these things offer a ton of value. They're a great option for pros and novices alike. If you want something more substantial, look at the Channellock Professional line reviewed here.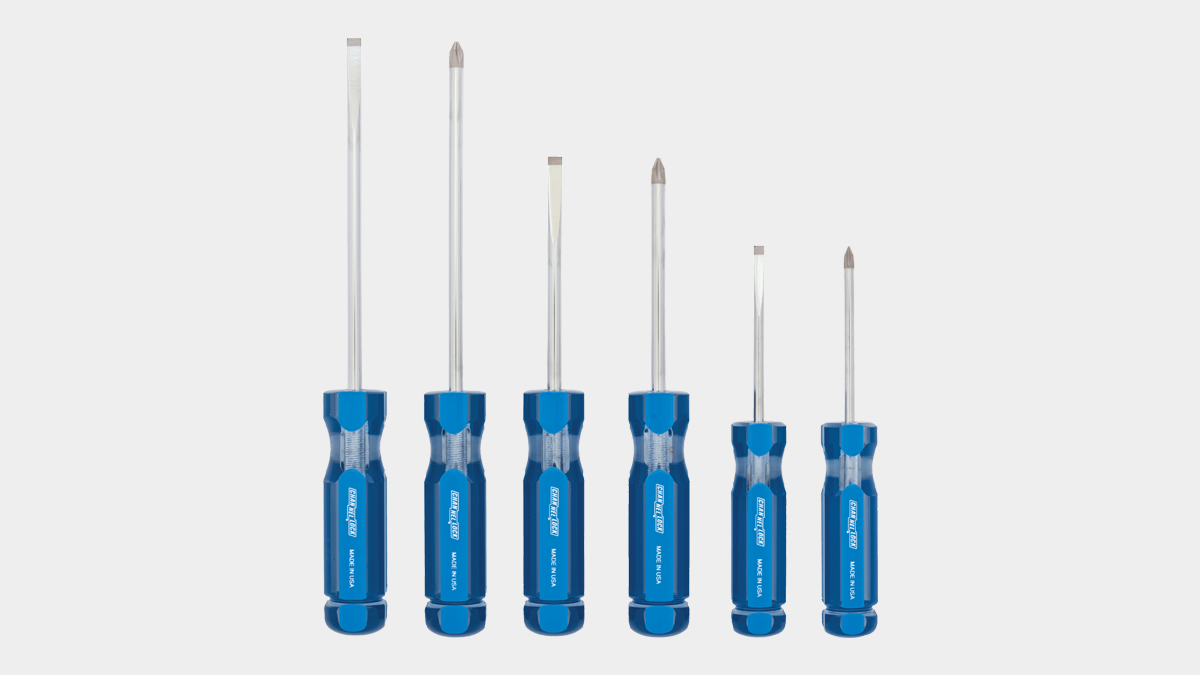 Channellock Professional Screwdriver Set
The Channellock Professional screwdrivers are a bit different than their Code Blue series and are geared more towards the professional who demands supreme durability.
These screwdrivers are available individually or in a 5-piece, 6-piece or 10-piece sets. My 10-piece set includes the larger #3 Phillips and 5/16″ slotted as well as the smaller #1 Phillips and 3/16″ slotted, which come in very handy depending on the job. It's the best deal, in my opinion.
The shank is made from a proprietary steel alloy and coated in a nickel-chrome finish. Both materials are super durable and will hold up well outside of some extreme abuse.
Tips are precise and I've had no issue with the flathead tips twisting, which tends to happen with parallel blade screwdrivers. Also, like many screwdrivers geared towards professionals, the tips are non-magnetic.
The four-sided, acetate handles are very eye-catching, comfortable, and won't roll away. They clean up easily and should withstand hard use and corrosion.
All-in-all, this is another great set of screwdrivers made by Channellock. If you're looking for professional-level tools with hard handles and non-magnetic tips, this is an excellent option.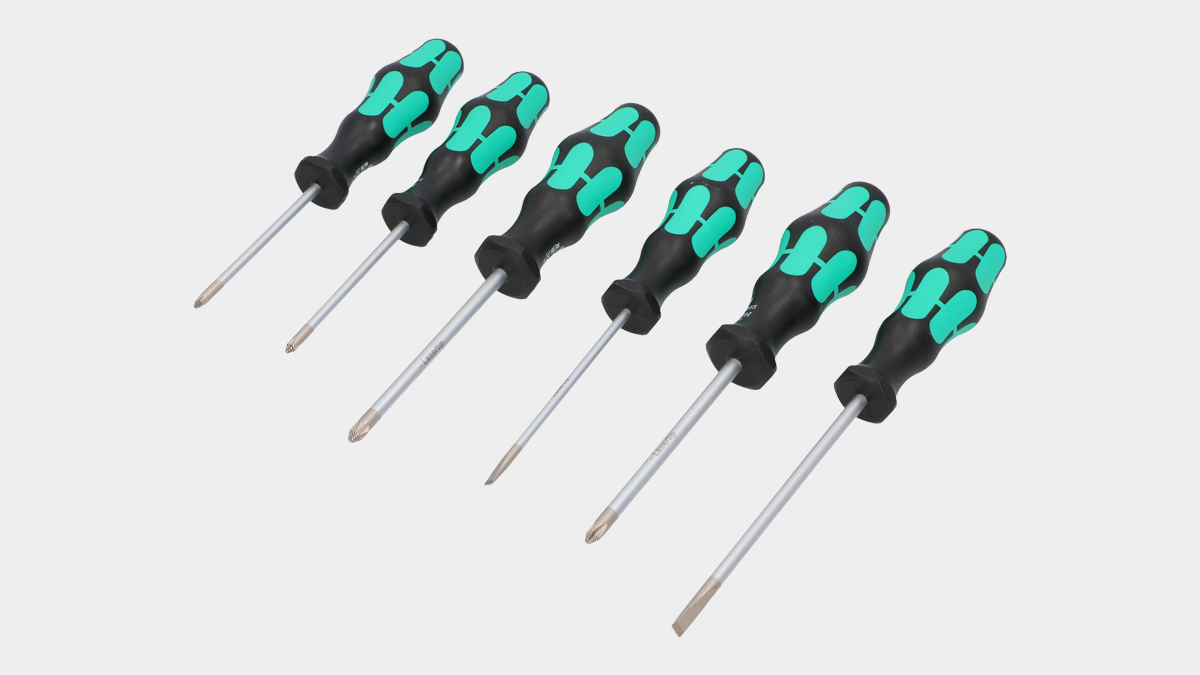 Wera Kraftform Plus 300 Series Screwdriver Set
Break this set out and you're sure to get a few strange looks. However, these German-engineered screwdrivers are among the best you can buy. And, you would be selling yourself short if you judged this book by the cover.
Like many German products, Wera's Kraftform Plus 300 Series screwdrivers are precise, durable, and ergonomic. They have a lot of great design features that make them both practical and easy to use. And, if you're anything like me, then you will love how non-fatiguing and comfortable they actually are.
These screwdrivers are available in a 6-piece set in insulated and non-insulated form. The set provides all the common sizes for general purpose projects and the insulated version is great if you're working around electricity.
The shank is made from high-quality carbon steel, heat treated, and chrome-plated. The precision machined, laser etched tips are unique to Wera and designed to prevent cam-out. And, in that capacity, they work very well. In fact, they bite so hard I can hang them upside down from a screw if I really try.
Also unique to Wera is the handle design. It has a nice palm swell that follows the shape of your hand making them feel very natural, tactile, and non-fatiguing – even after a long day's work.
A few more nice touches include the rubberized sections on the handle for extra leverage, the eye-catching color, and hexagonal shape to stop the screwdriver from rolling away. Overall, a solid set of screwdrivers for the money.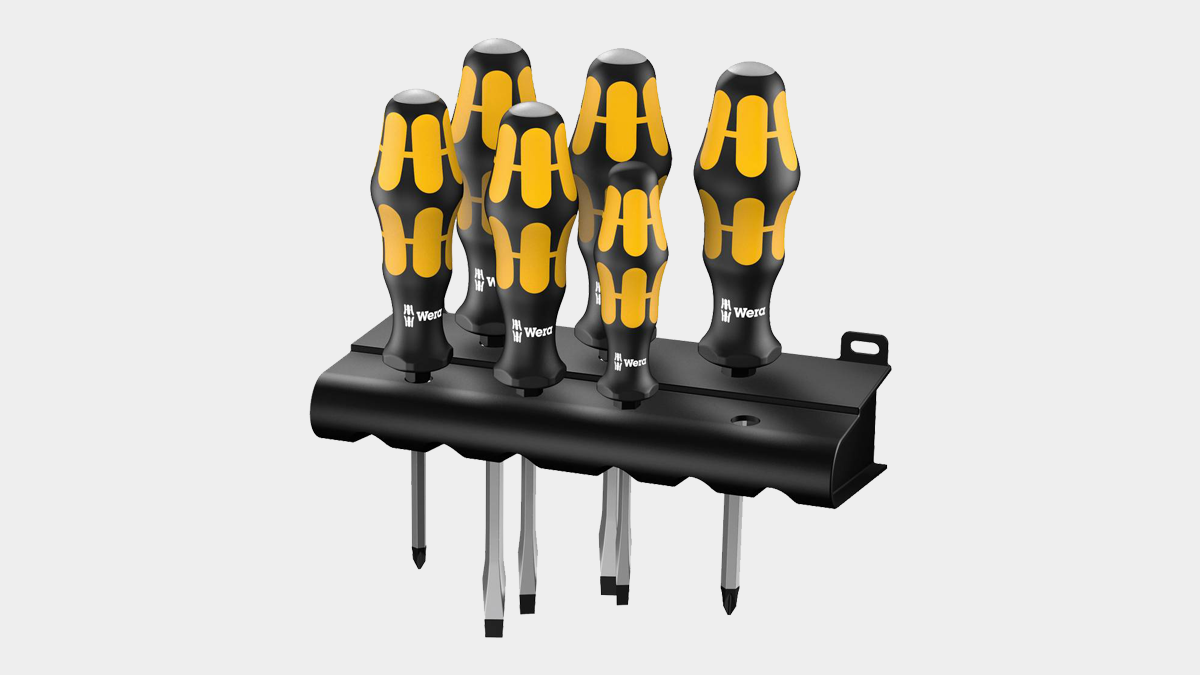 Wera Kraftform Plus 900 Series Screwdriver Set
It isn't just color that sets the Wera Kraftform Plus 900 Series screwdrivers apart from the 300 series. These things are built with ultimate durability, functionality, and comfort in mind. Objectively, they're some of the best screwdrivers made and certainly a favorite of mine.
These screwdrivers are available in the same 6-piece set with all the right sizes for your common projects. They feature the same unique handle design with palm swell and rubberized sections for maximum leverage – this time in yellow. But, this is where things diverge from the 300 series.
The 900 series is built for situations where screwdrivers aren't typically recommended – mainly chiseling and prying. The robust shank extends all the way through the handle and features a metal impact cap at one end that efficiently transfers energy to the tip when you strike it.
The tips are non-magnetic and not laser etched. Instead, they are hardened and black oxide finished for maximum strength, durability, and corrosion resistance.
There is a hexagonal bolster located under the handle. And, while this isn't a feature I use much, it's nice to know you can slip on a wrench or slip joint pliers if the application calls for more torque.
Overall, these are exceptionally strong and comfortable screwdrivers and I would recommend them for any heavy-duty application.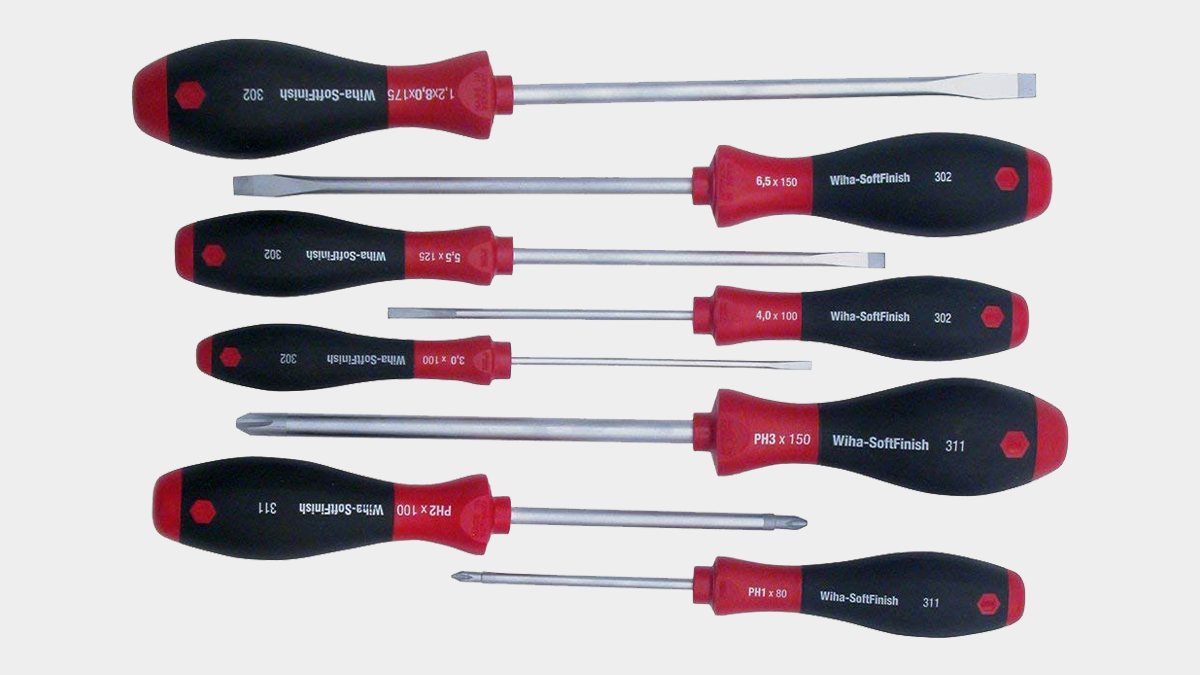 Wiha SoftFinish Screwdriver Set
You can't talk about Wera without also mentioning Wiha. This is another well respected German tool manufacturer and their screwdrivers are exceptional. The SoftFinish CushionGrip series, in particular, are among the best general purpose screwdrivers available.
The Wiha set is available in quantities from eight on up to 20 pieces. The eight-piece set is plenty for most tasks and, of course, much cheaper than the larger set.
Shanks are strong but unremarkable. They extend halfway through the handle and are made from chromoly vanadium with a satin finish for corrosion protection.
The "ChromTop Finish" tips are among the strongest I've ever seen, though. They're precisely machined and, speaking from personal experience, will strip most screw heads long before that damage the screwdriver, itself.
Like the Wera screwdrivers, the Wiha ones are built with comfort in mind. They feature a nice palm swell that offers natural, fatigue-free use all day. They also have a rubberized finish that gives you a lot of torque for tough jobs.
If you are looking for something more substantial, look at Wiha's heavy duty and extra heavy duty sets with their MicroFinish Grips. They take the exceptional features of the SoftFinish line of general purpose screwdrivers and add a full shank, impact cap, and hexagonal bolster.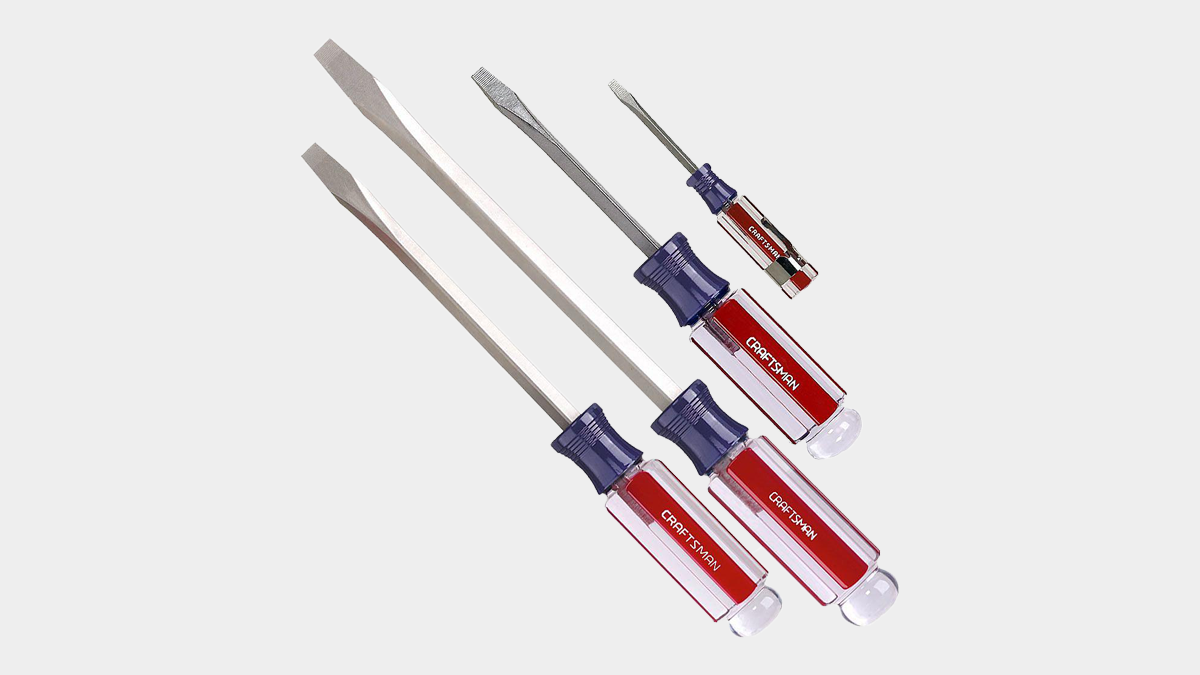 Craftsman Screwdriver Set
I'm partial to Craftsman screwdrivers. This was my first real set and it's what my father used and his father before him. And, even though the name doesn't hold the same weight it once did, Craftsman still makes excellent general purpose tools.
Until recently, Sears was the only distributor of Craftsman tools. They provided a lifetime no hassle warranty for their products, which was always a big selling point since you could walk into any store and exchange your broken tool for a brand new one. And, as far as I know, they still do this.
In early 2017, Craftsman was purchased from Sears by Stanley Black & Decker – another popular tool manufacturer. As such, Craftsman tools are now available at Lowe's Home Improvement stores, as well. I'm unsure whether they offer the same warranty as Sears, though.
Craftsman screwdriver sets are available in various quantities from five pieces up to 41 pieces. Personally, I recommend the 17-piece set as it offers an excellent variety of sizes and different lengths of the popular #2 Phillips and 3/16″ flathead.
Each screwdriver is made from a steel alloy, heat treated for strength, and coated in a satin nickel finish to prevent corrosion. Flathead tips are serrated to provide extra purchase on slotted screws, which are notorious for slipping. Likewise, the Phillips tips are precisely machined to prevent cam-out. Both are non-magnetic.
The hard plastic handles are easy to grip and labeled with sizes for quick identification. However, I don't find them to be as ergonomic as others on the list and your hands can slip if wet or greasy.
The shank does not extend all the way through the handle, so these screwdrivers are best suited for home use or light professional work.
Overall, the Craftsman screwdriver set is well built and durable. It doesn't have a lot of the perks that others offer (magnetic tips, full shank, ergonomic grips) but they make an excellent no-frills option.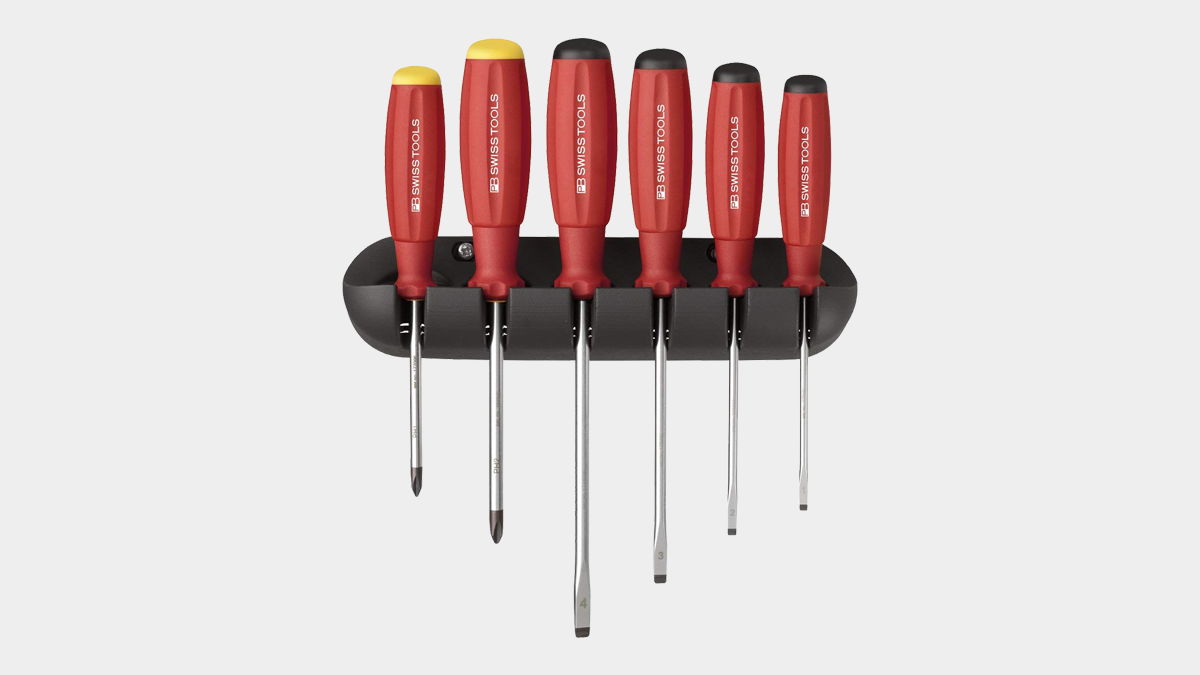 PB Swiss SwissGrip Screwdriver Set
You probably haven't heard of PB Swiss, and, until recently, I hadn't either. It wasn't until I was given a set by a friend and learned a little bit about their history that I understood what I was missing out on.
For 140 years PB Swiss has produced some of the most respected and sought-after tools in the industry. They're used by skilled technicians from around the world that rely on these tools for their livelihood and demand comfort, reliability, and performance above all else.
Craftsmanship and quality are immediately evident the first time you handle one of these screwdrivers. Fit and finish are excellent and so are the materials.
The shank extends halfway through the handle and is made from high-quality steel, through hardened, and chrome finished. They're also laser etched with the size and a unique serial number. Tips are precisely machined and black oxidize finished.
The handle is made from Santoprene, which is a nice alternative to standard acetate. It's very hard and durable but textured giving you a better grip. It is difficult to keep clean, however. Handles are also color matched and clearly marked for easy identification.
Consider these screwdrivers if you need a general purpose set with exceptional build quality and durability without the extra features of heavy duty models.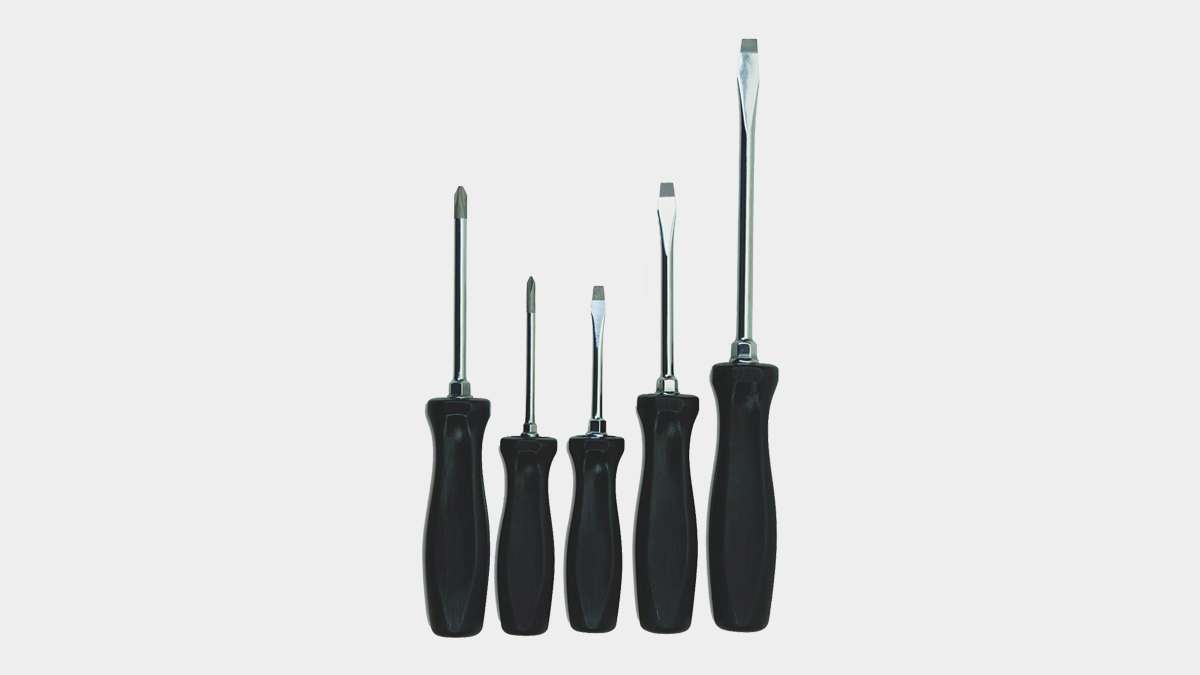 Williams Hard Handle Screwdriver Set
This is your chance to get Snap-On quality without the exorbitant price. That's because Snap-On owns Williams and this set of screwdrivers is almost exactly the same as the Snap-On equivalent.
These screwdrivers are built to last but don't have all the bells and whistles some may find distracting in other high-end sets. Simply put, if you're looking for a heavy duty, no-nonsense workhorse then these are perfect.
The shanks are made from high-quality carbon steel, heat treated, then coated in chrome to prevent corrosion. They also have a hexagonal bolster located under the handle that allows you to use a wrench or slip joint pliers if you need more torque.
Tips are precise and very durable. Even with regular use, I've had no issue with breaking, twisting, or rounding, whatsoever.
The handles are similarly durable and constructed from a hard chemical resistant plastic, which is super easy to keep clean. The design is incredibly comfortable and functional, too. They feel natural, non-fatiguing, and are flared to prevent your hand from slipping off when you're exerting a lot of downward pressure.
If you're a professional or serious do-it-yourselfer and need a heavy-duty set of screwdrivers, then these are unquestionably worth your consideration.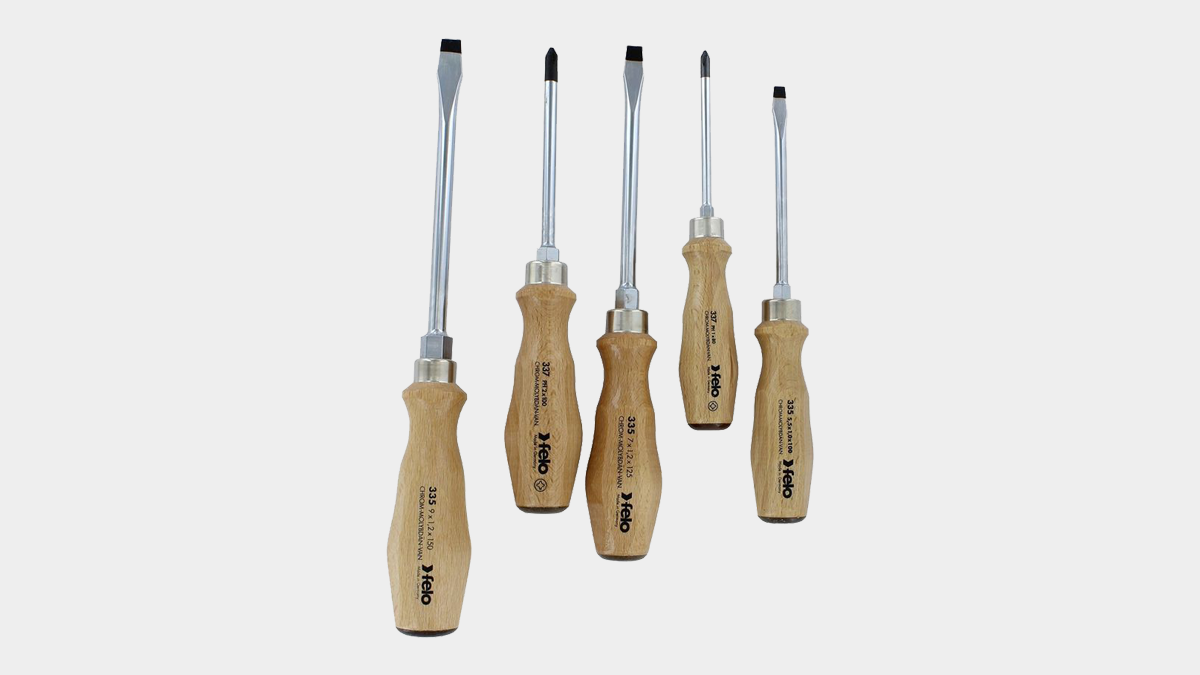 Felo Wood Handle Screwdriver Set
There's a definite trend developing as yet another German company makes the list. And, no list would be complete without at least one set of old school wood handled screwdrivers.
Though they may seem antiquated, that's far from the truth as wood handles have a few benefits over acetate. They're aesthetically pleasing, easy to clean, and, if the handle does break, they're easy to repair.
Felo is well known for producing top-shelf screwdrivers and bits and their wood handle version is more of the same. These things are heavy duty, built to last, and have features you normally don't find on wooden screwdrivers.
The shank is made from chromoloy vanadium, through hardened, and covered in chrome for corrosion protection. It extends all the way through the handle and is exposed at the top so you can use it as a striking surface. There's a leather cap to prevent splintering when used in this manner.
The tips are precisely machined and very durable. After several months, they're still in great shape and perfectly usable.
The handles are very comfortable but I did find the varnish made them slippery when they were new. However, the finish wore down with time and became very usable after a few weeks and I'm sure a little light sanding would accelerate this process.
If you want for a heavy duty set of screwdrivers with a bit of vintage appeal then this is an excellent choice.
---
Screwdriver Set Buying Guide
If you're used to cheap screwdrivers then a high-quality set will be a revelation. They're built better, perform better, and last longer. And, even though they are more expensive, they will actually save you money in the long run when you consider replacement costs or possible damage.
Selecting the right screwdriver set, however, will require a bit of knowledge on your part. There are a number of subjective and objective factors to consider before you make a purchase.
Of course, you want top-shelf materials, durable tips, and ergonomic design. Other features like magnetic tips or impact caps may not be necessary or even desirable based on your use case, though.
With that said, I've dedicated the rest of this guide to covering all those factors, plus more. By the end, you should have a well-rounded knowledge of screwdrivers and the confidence you need to pick the best screwdriver set for you.
Screwdriver Parts Explained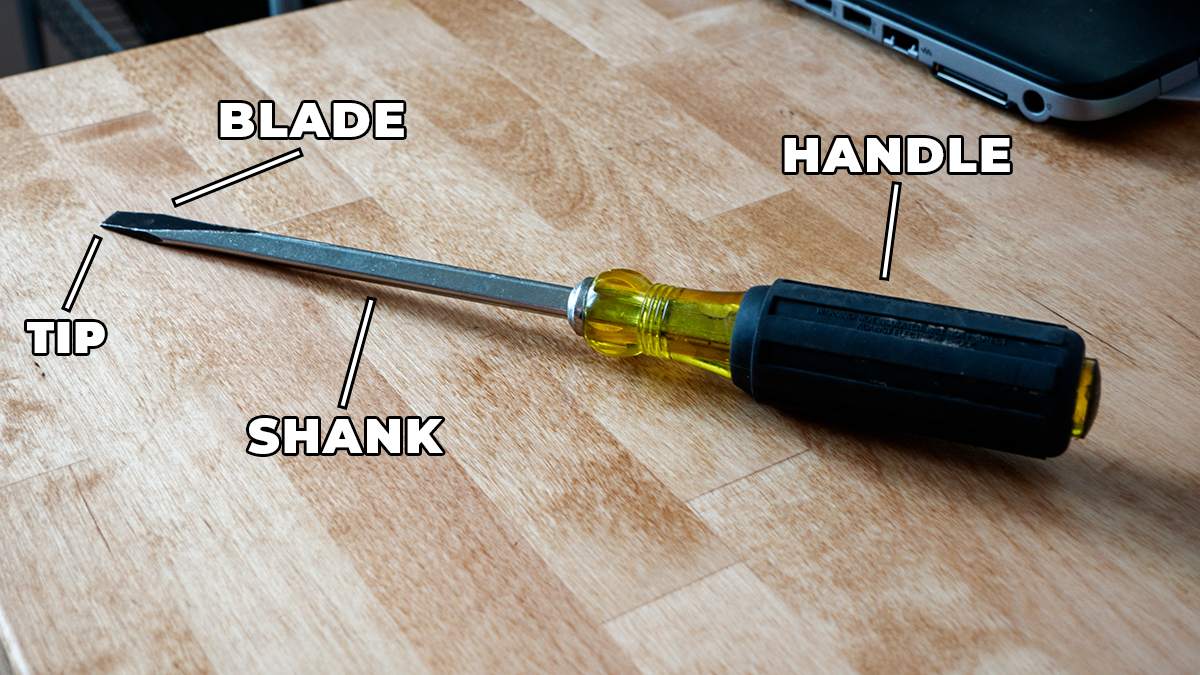 A screwdriver is a pretty simple tool and has only 4 main parts – the tip, blade, shank, and handle. Each component has its own considerations, and, broadly speaking, should be precisely machined from high-quality materials.
Handle
The handle is the part of the screwdriver you grip and what the shank is attached to. They're generally constructed from wood, or, more commonly, from a polymer called acetate. Though they can be made from other polymers like Santoprene or even metal.
There are a lot of handle design considerations to keep in mind when selecting a screwdriver set. One feature may be desirable depending on your use case or even personal preference.
Many professionals prefer solid acetate handles as they're easier to keep clean, chemical resistant, and have a fast action. In general, they're more durable and won't break down like some rubberized handles will. If your hands are wet or greasy they can become quite slippery, though.
Others may prefer ergonomic grips that feature a textured or rubberized coating. They feel natural and are non-fatiguing, which is great if you use your tools all day. They also offer better grip and torque when used in wet or oily conditions. Though, in certain situations, the rubber can break down, as I mentioned previously.
Wood handles are an interesting alternative, and from my experience improve with time. Wood looks nice, and, when the varnish wears down, it has a nice texture for a secure grip. It isn't as chemical resistant and will splinter if abused. But, it's pretty easy to make a new handle if it does break.
Shank
The shank is the piece of metal attached to the handle with the blade and tip at the other end. Almost all screwdrivers shanks are made from carbon steel, though stainless steel is also popular.
Shanks are found in various shapes but are usually round, square, or hexagonal, and the shape may play a role in how the screwdriver is used.
For example, round shank screwdrivers are easier to turn when you wrap your hand around them for stability. They're generally found on general purpose and light-duty screwdrivers but this is not a hard-and-fast rule. The Klein, Channellock, Williams, and Felo screwdrivers mentioned above are all heavy duty, professional level screwdrivers with round shanks.
Square and hex shanks, on the other hand, tend to be more robust and are common on heavy duty screwdrivers. The shape also provides an excellent surface for attaching a wrench or slip joint pliers if the situation calls for it.
Overall, it's not a huge consideration but definitely something to keep in mind when exploring your use case.
Blade
There are two common blade types – parallel and flared. While either type will get the job done they're typically used in different situations.
Flared screwdrivers are more common and are stronger. The design resists twisting forces that can damage or bend your screwdriver out of shape. However, the flared portion can damage the project you're working on, which is where parallel screwdrivers come in.
Parallel screwdrivers are not flared and are used when you don't want to damage any edges. They're commonly used by woodworkers, gunsmiths, and for other precise work.
It's common for many screwdriver sets to have a combination of blade types. Typically the flared screwdrivers are the larger more powerful ones and the parallel ones will be smaller for less demanding tasks.
Tip
The tip is arguably the most important part of the screwdriver, but also the most sensitive. It should be precise enough to effectively turn a screw but durable enough to resist twisting, rounding and breaking.
High-end tool makers use the best materials and manufacturing processes. As such, their quality is much better and you are more likely to get an awesome tool when you purchase from a reputable company.
Beyond machine and material quality, there are a few other features to keep in mind. A lot of companies have their own proprietary designs typically meant to better hold the screw in place, increase lifespan, prevent cam-out or a combination of all three.
Magnetic and serrated tips are excellent solutions to these problems, though, depending on the situation, may not be ideal. For example, magnetic tips will attract metal shavings that can clog the screw head and can be very dangerous if you're working around electricity.
Other tips are bead blasted or laser etched to add a little bite and prevent cam-out.
Personally, I prefer etched and magnetic tips; they make life easier since they hold the screw in place for you and you don't drop screws nearly as often. I can always use something else if the situation dictates.
Screwdriver Materials & Finishes Explained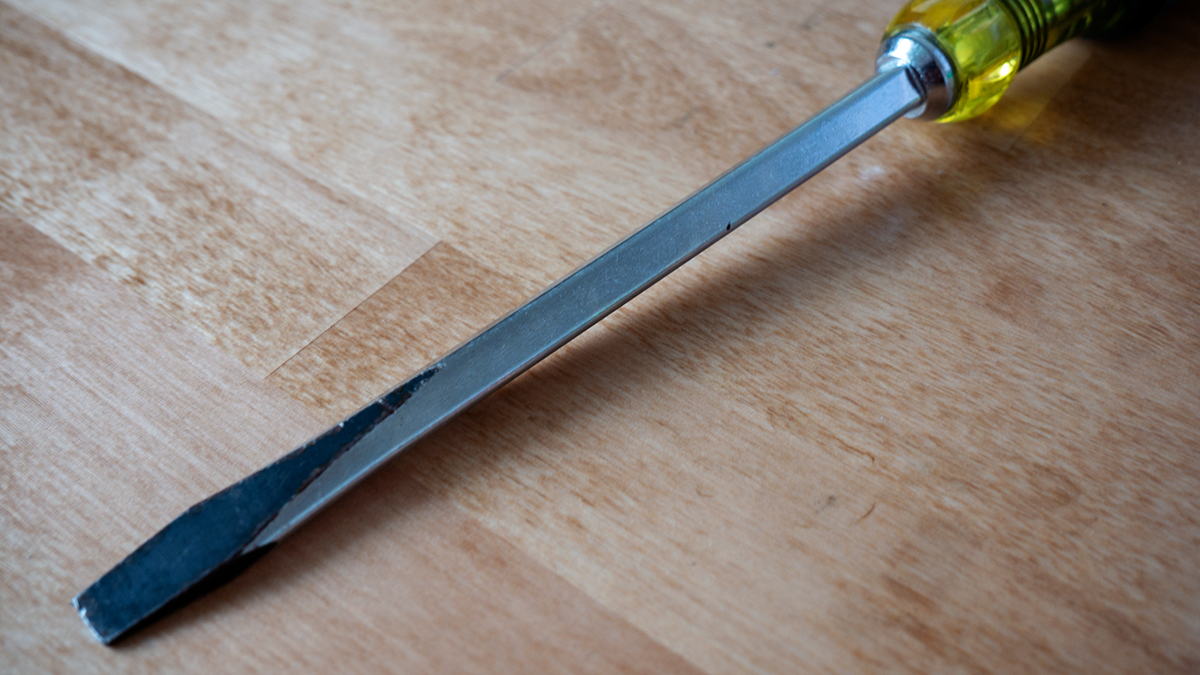 It goes without saying that high-quality materials are crucial. In fact, a screwdriver's performance and longevity depend almost exclusively on materials, finishes, and proper heat treatment.
And, while there isn't a tremendous amount of variations between the types of materials used, it's certainly an important topic to explore for these reasons.
Most screwdrivers are made from a polymer called acetate, a high-carbon steel alloy, and finished with chrome, nickel, or another similarly durable substance.
Other materials are sometimes used, as well, though not as often. Stainless steel, for example, makes an excellent material for shanks, blades, and tips since it is incredibly strong and naturally corrosion resistant so it doesn't need a special finish.
Let's look at these materials a little more and weigh the benefits and drawbacks of each.
Carbon Steel
Carbon steel is an alloy containing trace amounts of carbon, which improves strength and corrosion resistance among other things. Carbon steel is exceptionally strong and long-lasting, making it an ideal material for use in screwdriver manufacturing.
The amount of carbon will ultimately determine how durable or corrosion resistant the steel alloy will be. In addition, the heat treating process greatly impacts the hardness and stability of the metal.
As the amount of carbon in a steel alloy rises, it becomes harder and stronger, but less ductile and more difficult to machine – this is why I always recommend choosing tools made by a reputable manufacturer.
Some companies may use inferior materials and manufacturing processes that essentially trade strength for ease of machining and cost.
Chromoloy vanadium, or CMV, is a carbon steel alloy with the addition of an element called vanadium. Vanadium improves strength and corrosion resistance when added to various alloys, which makes it the choice for many high-end screwdriver manufacturers and my preferred material where possible.
The improved strength offers peace of mind, and the price, in general, is very reasonable when compared to other carbon steel alloys.
The biggest downside to carbon steel is rust. It requires a durable finish to protect against oxidation and chemicals, and, even then it can be an issue. As such, it's important to clean and maintain your tools on a regular basis.
Stainless Steel
Stainless steel is a steel alloy that contains significant amounts of chromium, an exceptionally hard material that protects against corrosion and prevents rust.
There are two big benefits to stainless steel that make it a very good material for screwdriver construction. One, stainless steel is harder when properly tempered. Two, it is much more corrosion and chemical resistant than carbon steel making a finish unnecessary.
However, since it is such a hard material, it's more difficult to machine and can be brittle under certain conditions. It's also more expensive which may help explain why it isn't as popular as carbon steel.
From my perspective, it's a great material but not necessarily better than a high-quality carbon steel alternative. As such, it's important to weigh the pros and cons before making a purchase.
Polymer
A polymer is simply a compound made up of many smaller molecules, called monomers, that are strung together to form long chains and other complex structures. Polymers can be made from naturally occurring or synthetic monomers and the properties of the final product depend on the specific molecules used.
For screwdriver handle construction, acetate is far-and-away the most common polymer used. And, in many ways, it's an ideal material since it is durable and economical to produce.
It's also impact, abrasion, and chemical resistant. Obviously, if you work in harsh or caustic conditions then these are desirable traits.
Acetate is not without fault, however. Its non-porous surface makes for fast action but gets very slippery when your hands get wet or greasy.
For this reason, a lot of people prefer rubberized handles since they offer more torque and better grip in slick conditions. Other manufacturers choose polymers like Santoprene, which is similarly durable but more textured than acetate.
Wood
Long before polymers were widely available, wood was the preferred material for screwdriver handle construction. Though it's not as popular today, many manufacturers still offer a traditional wood handled version of their tools, and, for some, there are real benefits.
Wood has a nice texture and offers a secure, confident grip when your hands are wet or greasy. It's aesthetically pleasing, easy to care for, and actually molds to your hand. Over time, it becomes a tool that's unique to each user.
But there are a few downsides, too. For one, they require more attention. Without proper upkeep, wood screwdrivers can easily break down, dry out, or splinter. Since it isn't very chemical resistant, you really need to clean your screwdrivers after each use.
Wood screwdrivers are also easy to damage and need to be handled with care. Since wood is delicate, any hard drops or abuse will have a deleterious effect over time and is a major consideration for any professional.
Finishes
Most carbon steel screwdrivers will have a durable finish like chrome or nickel to protect against corrosion and improve service life. The non-porous surface also makes cleanup a breeze.
Chrome and nickel are applied using a process called electrolysis, which binds a thin layer of chromium or nickel to the shank making it hard and chemical resistant. This same process is used in a number of automotive, household, and industrial application that require protection and improved friction characteristics.
However, these finishes are not ideal for screwdriver tips in some cases. Since they are so slick, the tip may not have enough bite to turn some screws and will cam-out or possibly damage your project. As such, many manufacturers will bead blast or laser etch their tips to increase friction.
In addition, the tip may be black oxidize fished to add a layer of protection while still being coarse enough to grip the screw head.